150 Years of The Province of Cheshire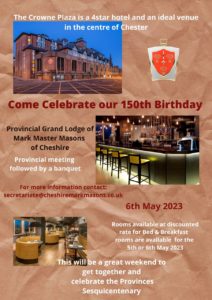 Although the shrouded history of Operative Mark Masonry begins much earlier, this story has its outset in September 1769, where we find the first written record of any working of a speculative Mark degree, when at a newly chartered Royal Arch Chapter, known as the Chapter of Friendship, held at the George Tavern in Portsmouth, the famous Thomas Dunckerley, son of the Prince of Wales (later King George II), Provincial Grand Master.
"Up to 1872, there had been no Provincial Grand Mark Lodge for the Province of Cheshire. The consecration of the Stamford Mark Lodge No. 148 in March 1872, now meeting at Sale, brought the number of Mark Lodges in Cheshire at the time, to four, the other three being Ashton District at Dukinfield, Benevolent No. 67 (now Benevolent TI) at Stockport, and Fidelity Mark No.31 at Birkenhead. With the addition of North Wales, it was deemed desirable by several eminent Mark Master Masons, that a Provincial Grand Lodge should be established for the area of Cheshire and North Wales. on 5th April 1873 therefore, through the united exertions of Brothers Bulkeley Hughes, W. Romaine Callender (who we mentioned earlier as the Mark Provincial Grand Master in Lancashire), J. Chadwick, Lt. Col Wilkinson, J. A. Birch, and Richard Newhouse, the Provincial Grand Lodge of Mark Master Masons of Cheshire and North Wales was Instituted and Consecrated under the command of The first Provincial Grand Master, R.W.Bro. The Hon. Wilbraham Egerton (later Earl Egerton of Tatton). W. Bro Newhouse was appointed as the first Provincial Grand Secretary (and indeed, he held the same position in Craft).
The combined Province separated in 1880 and The Province of Cheshire as we know it today, was born.