Mark Masons Step in as Blood Bike is stolen and vandalised and purchase a New Bike.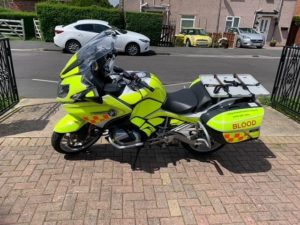 The Mark Benevolent Fund has agreed to fund the purchase of a New Blood Bike at a cost of £18,801.
One of the Manchester Blood Bikes was stolen from a volunteer's house and vandalised. The bike has been able to be repaired to such an extent to allow it to get back on the road. The bike however has over 85,000 miles on the clock and is at such a point in its working life that they would be looking to retire it.
So Mark Masons from Cheshire and Lancashire are purchasing a New Blood Bike for them at £18,801