Mark Benevolent Fund- helping those in need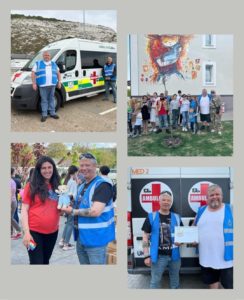 During their recent trip to provide humanitarian aid to the Ukraine by supplying much needed Ambulances and medical supplies to the Ukraine, which was partially funded by the Mark Benevolent Fund, Cheshire Mark Mason Mike Ross visited an orphanage in Chernivtsi, and was struck by their plight, and need for a minibus to transport the children to the nearest hospital some 30 miles away, and if needs be, to assist with any future evacuation that may be required.
Mike was so moved by their need and the conditions they faced, that he promised to do what he could on his return, and immediately started a new appeal to purchase a suitable minibus, and again taking Humanitarian aid and supplies to deliver it as soon as possible to where it was urgently required.
Following a further request for aid from the Mark Benevolent fund, he was overwhelmed to have quickly received a further grant of £10,000.00 towards the costs of providing the minibus, the target for which has now been met, with any excess funds going to providing suitable supplies for the orphanage in question.
Mike is now rapidly making arrangements to put his plan into action, and hopes to again make the journey into the Ukraine, in the next week or two, and we look forward to news on his progress.