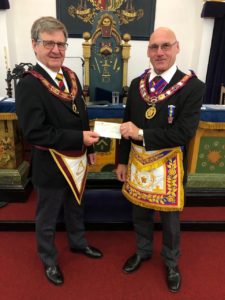 On Saturday, the 28 May 2022 at the Annual General Meeting of the order of Royal & Select Masters, the Head of the order Bryan Hughes decided to have a collection in support of the Mark 2024 Festival, a fantastic amount of £500.00 was donated by the companions present and a cheque was presented to our PGM on the day.
Once again brethren, this shows what can be achieved when the orders work together and that the members of each order will come together to support each other.
We as Mark Men should continue to support the other orders as they have supported us.