Individually, we can help the cause in many ways by supporting the events around the Province which have been organised both to raise funds and promote enjoyment of our Order.
There are two Salmon lunches annually; one on the East side at Stockport Masonic Guildhall run by Howard Waddell, John Goldsmith and Keith Goulden (click here to book) and one on the West side at Ellesmere Port run by Graham and Bob Kyffin, (Click here to book) which have made many thousands of pounds over the years towards our charitable efforts.
The Mark Weekend Away, run by our Assistant Provincial Grand Master Glyn Hewitt, assisted by Dougie Watts, Stephen Flood, Iain Urquhart and Ken Davies held in April each year is another event which is great fun to attend and of course the new Annual Ball, Click here to book, held on the second Saturday in October, run by the banqueting committee of Graham Hall, Howard Waddell, Mike Jones and Stephen Flood, reporting to the Deputy Festival Chairman; David Heathcote.
If you wish, you would be very welcome to organise a local event maybe for your own Lodge or other brethren in your area such as a golf day, or alternatively organise a sponsored event such as a Sky Dive a Walk or a Cycle Ride.
During the period of the Festival I am sure that there will be many opportunities to get involved or to sponsor events.
Your Festival committee are working on various ideas such as clothes collections, a sponsored Cycle Ride, Abseiling from a Hotel Roof and a Barbeque, as well as producing merchandise such as Ties, Cufflinks, Lapel Pins, Postcards, and Mark Tokens for you to purchase. Of course you can also offer financial support by regular giving, or one off donations and earn the MBF Honorifics as shown in the table below.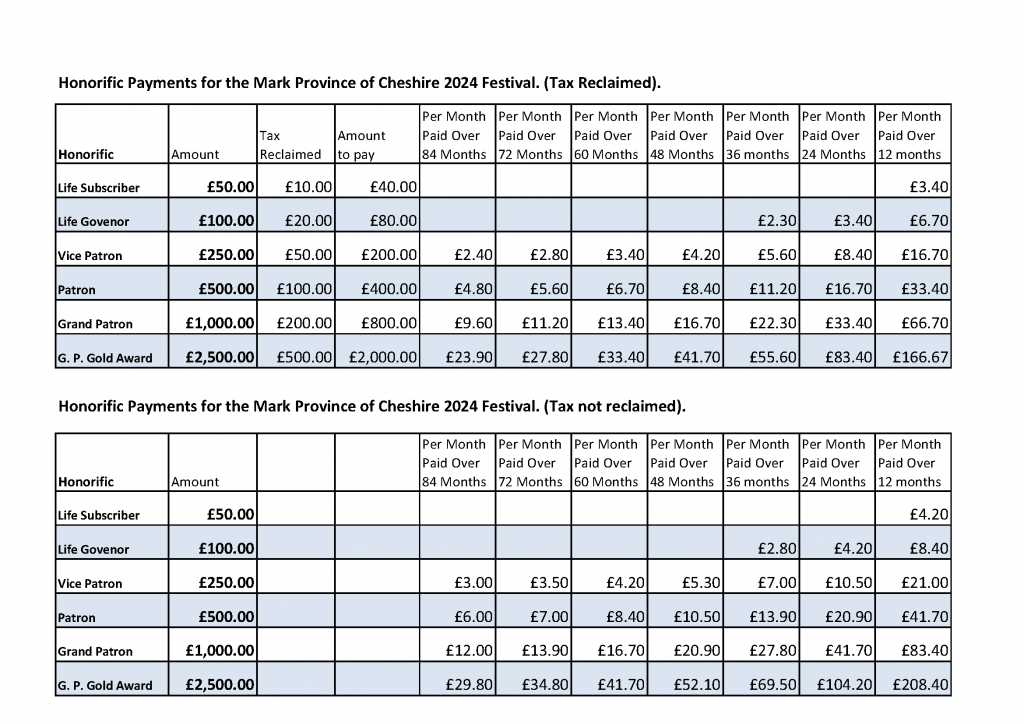 Ladies and Lewis's can also qualify as follows: Vice Patron £125.00, Patron £250.00 Grand Patron £500.00 and Grand Patron Gold Award £1,250.00 (half the amount as that of the brethren)