Canon Portal Memorial Lecture.
On Wednesday 26th October 2022 Benevolent TI Mark Lodge, in Cheshire, hosted The Second Canon Portal Memorial Lecture, in Stockport.
Right Worshipful Brother Gary Raymond Horstman, Provincial Grand Master of The Provincial Grand Lodge of Mark Master Masons of Cheshire was delighted to be accompanied by his team pictured here.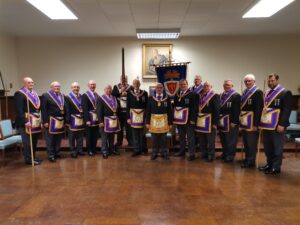 The lecture entitled 'The first Royal Mark Mason' is an account of the life and masonic career of Prince Leopold and was delivered by Worshipful Brother Dr Rod Taylor, Past Assistant Provincial Grand Master of West Yorkshire (Brighouse Lodge No 753)
This was a very important occasion for the Province of Cheshire and The lecture was extremely well received by all those present.
Picture here are the Lodge Members, including The Right Worshipful Provincial Grand Master of Cheshire David Victor Dyson, The Provincial Active Offices and Grand Officers.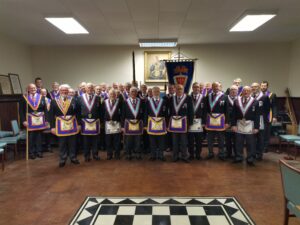 George Portal was Grand Master from 1869-1873 and the driving force behind the formation of the Mark Benevolent Fund, in 1868.